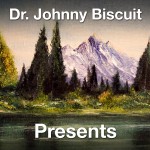 Broadcasting from Leantimmer (pronounced Lee-an-ti-mmer) Utah, Dr Johnny Biscuit Presents life stories and insights with expert guests and ordinary people. Also Leantimmer town updates. Updated Wednesdays.
Episode 5: Tom Kumferman  — Click here to listen
Are sports a waste of time? After playing football most of his life, Tom "Meat Puppet" Kumferman quit playing sports altogether and took up non-competitive leisure bowling. A Leantimmer resident, Tom talks about how sports affected his life and how he has found happiness by walking away from sports.
Episode 4: Lord Mesmer Eyes — Click here to listen
Is hypnosis fakery? Who has control over your mind? Listen as Lord Mesmer Eyes and Dr. Biscuit try to hypnotize each other at the same time in the controversial game "Hypnotist Versus Hypnotist."
Episode 3: Kelson Burlingham — Click here to listen
Does technology have it in for us? Our guest, Kelson Burlingham, IT Administrator for Leantimmer City says computers are stupid, so don't get mad at them. He says a device can only do what we tell it, and most problems are user error. He tells stories from supporting IT users and shares his predictions for the future of technology.
Episode 2: Keoni Kealoha, "Pops"– Click here to listen
Keoni Kealoha, or "Pops" says life is best lived with a smile. Pops is the Volunteer Fire Chief of Leantimmer, and owner/operator of Big Brudda and Sisters Hawaiian Tours and Plate Lunch. Pops talk about his love of food, his Hawaiian tours and fireworks safety tips.
Episode 1: Dr. Adam Strong — Click here to listen
Author, "Public Speaking is Harder Than You Think, a User's Guide to Talking Out Loud."
Synopsis: What the world needs is infinite you. Together we discuss social media making the most important thing you, and lots of it. Learn simple steps to blow your own horn that will blow your own mind.